Michael L. Lostra, P.E. - Biography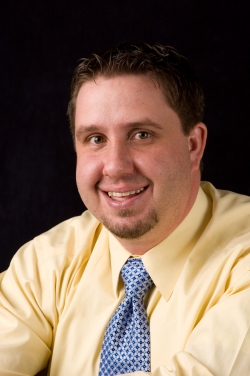 Michael L. Lostra was born in Reno, Nevada on November 11, 1976. Michael is the son of George (1949-2013) and Teri Lostra who currently lives in Elko. He has two brothers (Michael Scott Lostra and David Lostra) and three sisters (Holly, Kristie and Ali Lostra). Michael lives here in Elko with his four wonderful children (Kinnady, Keian, Kaiya and Knox Lostra) and his lovely fiancee Marissa McConnell, the mother of his children. Michael has lived in Elko for most of his life and is proud to call Elko his home.
Michael graduated from Elko High School in 1995. While in high school Michael was involved in cross country, track, basketball, under ground pep club, key club, president of the dance committee and a superb academic student. Prior to graduating from high school Michael enlisted in the United States Marines Corps as an infantryman on the delayed entry program.
Michael spent four years in the Marines where he remarkably attained the rank of Sergeant in just over three years, earned two Navy and Marine Corps Achievement Medals and participated in Operation Sudden Storm during the Persian Gulf conflict in 1998. While in the Marines Michael's steadfast devotion to duty earned him multiple military occupation specialties to include infantryman, rifleman, squad leader, close combat instructor and the battalion commander's elite forward operations personal security guard. Upon returning home from Operation Sudden Storm he enrolled at the University Of Nevada Reno (UNR) in the Civil Engineering Program in the fall of 1999.
While attending UNR, Michael and Marissa gave birth to their first child Kinnady Rose Lostra his second semester at the University. Determined to graduate and overcome overwhelming odds of attending the university while raising a child, Michael and Marissa graduated from the University of Nevada Reno in December of 2003; Michael earning a Bachelors Degree in Civil Engineering (BSCE), Marissa a Bachelors Degree in Biology and Kinnady an honorable mention for the most four hundred level college classes attended by any kid under the age of three.
After graduating, Michael moved his family back to Elko, Nevada to start Lostra Engineering with his father George Lostra. Lostra Engineering is a small, family owned local engineering firm which specializes in civil and structural engineering for Elko and the surrounding areas. Lostra Engineering is currently working on numerous projects around our community on the state, county and local levels. Michael is the owner of Lostra Engineering and a registered professional engineer in the State of Nevada.
Operation Sudden Storm qualifies Michael as a Veteran of Foreign Wars (VFW) and he is a life member of the VFW Post 2350 in Elko, Nevada. Michael has served as the Junior Vice Commander of Post 2350 and is a handful of Marine veterans at the Elko post that is leading the way for young VFW members. In April of 2008, Michael and Brandon Palmer started the "Red Fridays" support the troop campaign in Elko, Nevada. The objective of the troop support campaign was to increase awareness to the public about wearing red shirts on Fridays in support of our troops. This fundraiser has not only increased awareness but has given the people of Elko and the surrounding areas a way to donate and receive an official "Red Fridays" T-shirt to wear on Fridays. Michael and Brandon established a specific red shirt to wear around the area which gives the community and local businesses a way to feel like not only are they supporting the troops by wearing red, but giving a donation to our troops as well. The support the troop campaign has been a huge success and has raised over $85,000 dollars in the Elko area and is now on a nation wide city tour.
The summer of 2007, Michael was awarded with the President's Lifetime Volunteer Service Award signed by President Bush for dedicating over 4,000 hours of volunteer service. Some of Michael's volunteer service in this area includes teaching AutoCAD Classes at Elko High School, coaching various little league sports and volunteering around the community.
Some of Michael's most recent awards include 2007 Business Person of the Year from Phi Beta Lambda, Certificate of Commendation from the Army National Guard for Veteran Support and a Patriotic Employer Award from the National Committee for Employer Support for the Guard and Reserve for Lostra Engineering.
Michael has proven his loyalty to his community, a licensed professional in the State of Nevada and has served his country with military service. He is a Marine Veteran, University of Nevada Reno Alumni and owns a multiple of small businesses.
Click Here for Michael L. Lostra's Resume [PDF file]